The Evolution of Artificial Intelligence
Over the next 20 years, the ways in which we live and work are going to change, probably more than they changed over the past 2000 years.

Lecturer



Location

About the lecture
With the current development of artificial intelligence, we are entering a new age of the of human evolution – a time of enhanced reality. The characteristic of this era is improvement of natural human abilities by computer systems, which start to help us think and decide, create and overall – open up new perspectives and introduce new realities to us.
This is the third public lecture within the third cycle of Nelt Educational Program, and will cover topics of history of computing until now, but also the possibilities that are available today, and are at our disposal. The lecturer will present his own vision of human and computer symbiosis and how we will, live in a world that is more connected, more complex, more dynamic and more beautiful.
The NELT Company organizes the third cycle of the NELT Educational Program aimed to students, in a collaboration with Nova Iskra and Gallery 12 Hub. Within the third cycle of NEP, 25 selected students will have an opportunity to develop their practical skills from the field of creativity and entrepreneurship, but also to spread their views about critical thinking, teamwork, project development. The trainees will participate in the unique experience of collaboration and knowledge, this year under the slogan THINK FUTURE!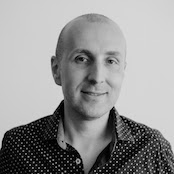 Miloš Žikić
Entrepreneur
Founder of the SpiceFactory company, the digital agency that supports startups and corporations to launch new products to the markets. SpiceFactory has a couple of its SAAS products on the market: Koncep, an usability testing tool and Sava.events, an app aimed at conference organizers. Before SpiceFactory, Miloš was a founder of several startups, such as Loyalters, HealthGames, while he has also been working on raising technological awarenesses in the Balkan region via the HeapSpace organization.