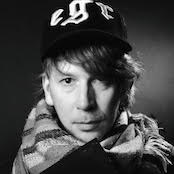 André Pahl
Designer
André Pahl is a freelance interaction designer, creative programmer and DJ. He graduated 2003 at Amsterdam's Gerrit Rietveld Academy at the graphic design department. In 2005 he moved to Mexico City for four years to work with one on the most renowned artists from there – Carlos Amorales – on animations and the record label 'Nuevos Ricos' (The New Rich). In 2009 he changed base to Berlin where he works since then on interactive projects, websites, and animations for a broad variety of clients mostly in the cultural sector.
André was always embracing coding as a creative way to create results that wouldn't have been possible with a manual approach — he likes to create systems where the code creates a generative outcome which surprises both the viewer and the creator. Since his teenage years music has always been one of his major interests and part of the environment where he worked in. After playing in several bands, co-running a record label in Mexico, he's now pursuing a career as DJ.
He worked on designing numerous websites, including http://marthacolburn.com/, http://lernertandsander.com/, http://gruppelifestyle.com, http://markalor.com/, http://estudioamorales.com/, http://eukunsthalle.com/ and http://nodeberlin.com/.