Attention Spam
As part of the regular program of Nova Iskra, this Thursday the design duo TeYosh will present their latest multimedia project, as well as their previous work.

Lecturer



Location

About the lecture
Attention Spam is the name of their multimedia project which is currently in the making, and that will be focused on the subject of attention deficit in the era of digital technologies. In their lecture, TeYosh will explain their view of the development and the future of digital technologies while presenting their work, which includes independent projects as well as their work for clients. Special focus will be put on the tendencies of the "immersive" digital technologies, such as virtual reality. TeYosh will also talk about their work for the Cinekid festival, a VR project that won the festival's Audience Award.
This unique designer-artist duo is mostly focused on the topics of online phenomena, as well as on the development and the future of digital technologies.
One of their widely known works is Dictionary of Online Behavior, a multimedia project by which authors tried to register and define interesting phenomena in Internet communication, as an equivalent to body language in immediate communication. The online behavioral dictionary tends to explain the behavioral changes that are consequences of the impact of social networks, and to provide the means for their analysis.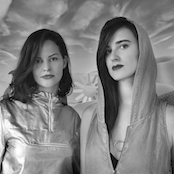 TeYosh
Artists
Behind the name TeYosh are Teodora Stojković and Sofija Stanković. After their respective Ba degrees at FUD Megatrend and the Faculty of Applied Arts in Belgrade, they enrolled in a two-year master program at the Sandberg Institute (Gerrit Rietveld Academie) in Amsterdam.
TeYosh deals with the relationship between man and technology, more precisely how the everyday use of digital technology influences our habits, brings new phenomena in everyday communication and how it is changing our perception of the environment. At their solo exhibition in Belgrade, they presented their graduation project Dictionary of Online Behavior. The project was later exhibited at the MOTI Museum in Netherlands, as well as numerous festivals around the world, from Lisbon and Athens to Sao Paolo, followed by a second solo exhibition of this project in Amsterdam. They collaborated with the artist Geoffrey Lillemon on a VR project of a virtual museum, and have also worked at the Amsterdam-based Random Studio. They are the winners of a grant from the Dutch Stimulerings Talent Development Fund. Some of their clients include MTV, Nike, MOTI Museum, Playgrounds Festival, Cinekid Festival, Barcelona Mobile Week and others.