BeeConnected school for urban beekeeping
A presentation of the first generation of BeeConnected urban beekeepers who just finished their training, within the 4 months long theoretical and practical course.

Lecturer



Location

Entrance
About the presentation
The course was led by Slađan Simonović, an experienced beekeeper, and the program was supported by Heinrich Boll Stiftung.
During this event the project BeeConnected will be presented, that in addition to the Beekeeping School, launched a campaign in collaboration with the Creative Unlimited Agency, with the aim of informing the general public about the problem of endangered and disappearing bees on the local and global level, and how can we contribute to the regeneration of the new population of these insects. This topic is the most important one these days, because without bees and other pollinators, there would not be most of the plant crops on which our diet depends.
All the visitors will get the printed manual with a list of more than 100 plants that anyone can plant to attract and feed bees and other beneficial insects while improving local biodiversity. Also, everyone in attendance will be able to taste the popular sweet honey spreads made by Happy Honey.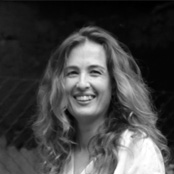 Sabina Kerić
Belgrade Flower Festival
Sabina Kerić, one of the initiators of Belgrade Flower Festival, is involved in projects that develop standards for urban ecology based on sustainable principles and participation in the process of urban planning and design. She is searching for solutions that improve public spaces and use of common goods as places of culture and play, and is engaged in the popularization of the profession concerned with green economy. She is the initiator and participant of the project that activate public spaces by organizing work activities, cultural events and campaigns. A longtime activist in the field of urban gardening, she is one of the founders of the first garden community in Belgrade.