Belgrade calling: On the roads of recent past – towards new future
28 participants in the project Bricks Made of Words will be hosted by Nova Iskra Creative Hub in Belgrade from October 11 to October 14.

Lecturer




About the presentation
Following a productive study visit to Cavriglia in September, the Bricks Made of Words caravan is making its way to Belgrade. The research trip to Belgrade's focus is on memory and the connection between politics and cultural heritage. We'll look at how recent heritage and history may become unsettling and undesirable and why it's critical for building a sustainable future. Discussions regarding important topics including migration and human rights, civil rights and duties, participation, media freedom, and youth policies will be sparked by participants using creative techniques like virtual reality.
Youth from seven different nations in Europe will be able to develop critical thinking on sensitive issues that typically widen the divide between proponents of and opponents of the European Union by participating in workshops, interactive city tours, and discussions. The research trip to Belgrade will come to a close with a free public debate on the subject of youth and media, which intends to address a number of issues including combating fake news and youth participation in the media landscape.
The event in Belgrade, the second in a row, will be hosting young Europeans representing 7 different countries:
From BOSNIA AND HERZEGOVINA (BRAVO BH): Mimes Patković, Amina Skejić, Suad Murselović and Almina Bajić
From SERBIA (Nova Iskra) : Iva Kojić, Jovan Aksentijević, Miona Dimitrijević and Teodora Vidaković
From BELGIUM (CONEXX-EU): Manon Quinet and Vincent Machado
From PORTUGAL (ARCSS): Ana Azevedo, Diogo Carvalho, João Rodrigues and Diogo Silva
From ITALY (ARCI Valdarno): Erika Alpini, Sofia Migliorucci, Teresa Bozza, Maria Elena Giorgetti and Sara Mori
From Cyprus (CUT): Sophia Ballor, Gamela Elsayed, Elena Sammouta and Harry Charalambous 
From Romania (Ofensiva Tinerilor): Stefan Babutau, Marius Ceausescu, Ioana Harsoveanu, Costin Ostafe
Belgrade study tour is co-created with our partners: Faculty for Media and Communication and the Museum of Yugoslavia.
Bricks Made of Words aims to bridge the gap between young Europeans and the Union's policymakers, by allowing a better understanding of Eurosceptics' arguments as well as Euro-supporters' triggers.
The project process aims to foster the civic engagement of European youth. The overall project idea is based on the concept that Euroscepticism can be considered as a challenge and a resource to detect possible solutions to the problems Europe is facing today and to set the bases of a new Europe, meant to be the Europe of all its Citizens. 
What are key European values and policies and how citizens can make a difference are core questions that the project "Bricks Made of Words: building Europe again through dialogue" will try to answer through 6 events held in Italy, the Republic of Serbia, Romania, Bosnia Herzegovina, Belgium and Cyprus, where local citizens, policymakers, experts, facilitators, students will meet and discuss together to debate different point of views, find common grounds and design together new perspectives and policy proposals.
The project "Bricks Made of Words: building Europe again through dialogue" is co-founded by the Europe for Citizens Program, and implemented by: Arci Valdarno | Cavriglia Municipality | Ofensiva | NOVA ISKRA |BRAVO BIH | CONEXX-EU | ARCSS | AGENFAP | CUT.
For any additional information, you can contact the project leader, Arci Valdarno, to the following address: info@arcivaldarno.net.
The European Commission's support for the production of this publication does not constitute an endorsement of the contents, which reflect the views only of the authors, and the Commission nor EACEA can be held responsible for any use which may be made of the information contained therein.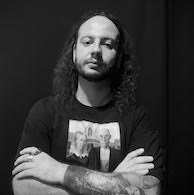 Milan Ličina
Visual artist
Milan Ličina is a visual artist, born in 1990 in Belgrade. In his practice, he operates through the fields of emerging technologies and experiential design, using the intersection of art, design and technology as a platform for creating immersive narratives, with extensive experience in new media, computer graphics, creative industry, event and exhibition design.