Conference opening lecture by the pioneer of the post-gravity art Dragan Živadinov
The Creative Backslash conference will be opened by the legendary Slovenian artist and theater director Dragan Živadinov with his lecture at the Belgrade Cultural Center, which is free and open to the public.

Lecturer



Location

About the lecture
From June 12 to 14th, Nova Iskra will present a three-day international forum entitled Creative Backslash: from precarious individuals to resilient organizations, at the Belgrade Cultural Center and the Factory. The conference will bring together 17 speakers and 150 delegates – artists, creative entrepreneurs, hub representatives, students, professors and policy makers – from more than 15 countries, including Turkey, Greece, the United Kingdom, Spain, Portugal, Slovenia.
As an inspiring introduction to the working part of the conference, on Wednesday, June 12th, the performance of the legendary Slovenian artist and theater director Dragan Zivadinov, entitled Post-gravity Art, will be held at the Belgrade Cultural Center. This lecture is free of charge and open to the general public without the need to register in advance.
The Connect 4 Creativity project aims to promote intercultural dialogue by linking creative hubs and communities into a networked common future. Connect 4 Creativity is an 18-month project led by the British Council, in partnership with the Abdullah Güll University, and three creative hubs – ATOLYE in Turkey, bios in Greece and Nova Iskra in Serbia. The project is co-financed by the European Union and the Republic of Turkey through the Intercultural Dialogue Program, supported by the Yunus Emre Institute from Turkey and the Ministry of Culture and Information of the Republic of Serbia.
The program of the conference is divided into three thematic levels: alone (individual level), together (level of cooperation) and united (organization level). Through lectures, workshops and panel discussions, we will address some of the most important challenges in the field of creative work, creative professions and organizations, through topics such as the relationship between creative work and mental health, spaces of co-creation, learning through collaboration, personal development, resilience of individuals and design organizations, or blockchain as a collaborative tool.
The speakers include Rachel Doern and Aleksandar Brkić from Leading Goldsmiths University in London, followed by representatives of Collaborative Habits, Makers of Barcelona, Polygon or CRU Cowork, Brano Frk of the Slovak Learning Design Organization Oppus, Dragana Jevtić of Creative Menorca, Nikola Velicković of GI Group, as well as Darija Medić from the Diplo Foundation and Marko Novaković, who is behind the award-winning project "The Client is Always Right". In addition to numerous lectures and presentations, four parallel workshops will be led by Professor Jovan Čekić from FMK (Creative Strategies), Atilim Sahin from Turkish organization ATOLYE (How to Build Communities), Nana Radenković in front of Nova Iskra (Team Culture) and Eva Velimirović that will hold a quick training on personal organization and planning.
If you would like to attend the entire conference, you can find all the information as well as the application form at https://novaiskra.com/international-conferencescreative-backlash/.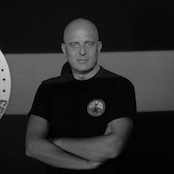 Dragan Živadinov
pozorišni reditelj
Dragan Živadinov, rođen 1960. godine u Ilirskoj Bistrici, slovenački je pozorišni reditelj. Studirao je pozorišnu režiju na Akademiji za muziku, radio, televiziju i film u Ljubljani od 1980 do 1984. Bio je suosnivač umetničkog pokreta Neue Slovenische Kunst (1985). Tokom 80ih je konstruisao stil retro-gardizam, osnovao retro-gardni teatar Gledališče Sester Scipion Našice, kao i kosmokinetičku opservatoriju Red Pilot. Početkom devedesetih preobrazio je Red Pilot u Noordung Cosmokinetic Cabinet i pokrenuo pedesetogodišnji pozorišni proces "Noordung 1995–2045" kroz formiranje stila telekozmizma. Godine 1998. postao je kandidat za kosmonauta, a 1999. godine realizovao Biomehaniku Noordung, prvu kompletnu pozorišnu produkciju u uslovima nulte gravitacije. Od 2000. godine konstruisao je post-gravitacione teatralne apstrakte.