Dataviz
The third intensive workshop within the third cycle of the NELT Educational Program was led by Uroš Krčadinac, multimedia artist and professor at Faculty of Media and Communication.

Lecturer



Location

About the workshop
Today, when our lives our strongly influenced by algorithms and huge databases, a need for new type of designers, artists, and storytellers has emerged – a need for those who understand computers, network and information technologies. They will invent and develop new visual and technological languages which will allow understanding and talking about the modernity. Unlike classical programmers, they will be able not only to create new things, but also to create new realities.
Data visualization and generative art and design represent a new language for new designers, artists, and storytellers.
During this three days' workshop, the participants got familiar with basic concepts and techniques of data visualization, generative art, and generative design. The participants were encouraged to look at coding not only as a digital tool but also as a form of expression, art, and design. This approach allowed the participants to develop their own language of generative graphics and animation, which they used to describe a real-time data stream. Every participants worked on his own visualization, while whole group shared the data.
Since these visualizations also work as interactive animated web sites, the participants will be able to upload them to the Web and use them for their portfolios.
This workshop is tailored for all creative individuals, regardless of their profession. Previous coding knowledge is not necessary. Participants are expected to be inquisitive, sharp-witted, aspiring to learn and make new things.
The workshop helps the participants gain:
Understanding media of data visualization from the aspects of design, art, and technology, as well as social and political aspects.

Understanding programming as a practice of design and art.

Understanding basic concepts and techniques in the domain of data visualization.

Mastering basic coding skills for the need of visualization of a real-time data stream.

Mastering basic generative art and design skills. Languages and technologies to be used: HTML, CSS, JS, P5.JS.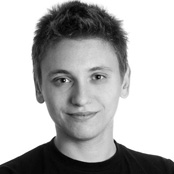 Uros Krčadinac
Multimedia artist
Uros Krčadinac was born in 1984 in Pančevo. In his work, he seeks to link his experiences from the fields of computer science, visual arts, literature, animation and interactive design. As a lecturer at the Department of Digital Arts at the Faculty of Media and Communications in Belgrade, he is responsible for the courses Programming for Artists and Designers and Interactive Design. At the moment he is finishing his PhD studies at the University of Belgrade (FON - Laboratory for Applied Artificial Intelligence), where he graduated as the best student of his generation. He is the co-author, co-publisher, designer and illustrator of the book Bantustan, an infographic travelogue-novel about a three-month trip through Africa. He also works as an associate of the Design Seminar at Reserach Center Petnica. Uroš's work has been recognized by international art festivals and scientific conferences such as American International Digital Media and Arts Association, as well as scientific journals such as IEEE Transactions on Affective Computing and IEEE Transaction on Human-Machine Systems.