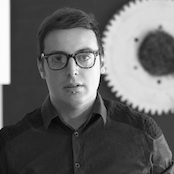 Dejan Popov
Landscape architect
Holding a master's degree in Landscape Architecture, born in 1986. Being a top student in his class, after completing bachelor studies in Landscape Architecture and Horticulture at Faculty of Forestry, University of Belgrade, he completed master studies in Landscape Architecture at the same faculty. During his studies, he took part in different projects at home and abroad. He has been working in the field since the beginning of 2011, aspiring to portrait the multidisciplinary nature of landscape architecture, focusing on his areas of interest, such as design, engineering, and applied arts. In early 2014, he and his colleague Jelena Stefanović started Landscape Factory, a landscape architecture and design studio in Belgrade.
He is the receiver of two certificates on Landscape Architecture Exhibition in Belgrade, organized by the Serbian Association of Landscape Architects (SALA); in addition to participating in a congress organized by International Federation of Landscape Architects (IFLA) and European Landscape Biennial Barcelona. Under the auspices of German Technical Cooperation Agency (GTZ), he and his colleagues participated in the publication of the Cultural Assessment Study of Kotor and Risan Bay. He took part in a number of projects during his studies. From ideas and initial sketches, to the final implementation, his extensive knowledge, skills, and experience allowed him to be in charge of numerous projects for private gardens, terraces, and large properties. Some of them are: Archaeological Park in Vinča, Memorial Center at Staro Sajmište, roof garden at Ušće Shopping Centre, Intercontinental in Ljubljana, Child Food Factory in Surčin, villa Danube in Zemun, Geberit Serbia, Mladenovac Lake complex, Galeb Group in Šabac, Diamond Garden complex in Belgrade, Forma Ideale Serbia, apartment complex Park Apartments, Ambassador Park and Central Garden in Belgrade, Acceleron Invest in Mauritius, hazelnut plantation Agro Trust complex, Nova Iskra - design incubator, organic lavender plantation complex - Lavandika.
He takes special interest in design, which is why he spent his free time working on plans and drafts for an "alive" parasol, as well as for a collection of planting containers - Diamonds, both project having been presented within Mixer Design Program in Belgrade. He is a regular correspondent for Eko Kuća, a magazine of eco-architecture and culture.