EdTech and Learning Design
Brano Frk, the second Slovak author visiting Nova Iskra in 2016, will present his professional focus as part of this week's program.

Lecturer



Location

About the lecture
In his lecture titled EdTech and Learning Design, Brano will talk about innovative approaches to learning and education in the light of the emerging "knowledge society", and will focus on the use of technology in the processes of sharing and transferring knowledge. He will also deal with questions of how to create learning networks, and how to design learning for digital natives. Brano will also showcase some of the cutting-edge tools and technologies for education and learning, such as VR, AR, AI, chat bots, edu tools etc.
From October 2016 until January 2017, Nova Iskra is realizing the third cycle of the residential program for designers, architects and other professionals from the fields of design and creative industries.
Over the course of Autumn 2016, six visiting artists are working at Nova Iskra within this program – two from Sweden, three from Slovakia and one from France. As part of the residential stay, guests are provided with working and living space, scholarships and mentoring support, while each of them also takes an active participation in the Nova Iskra.
Designer in Residence program is running since 2014, and is organized by Nova Iskra and the Swedish Institute, with a number of other partners from Sweden (IASPIS, Stpln). Last year, the program was joined by the Slovak organization Creative Industry Košice. From 2016, France is also entering the program through cooperation with AMI Center in Marseille, and with the support of the French Institute in Belgrade and the Ministry of Culture and Media of the Republic of Serbia.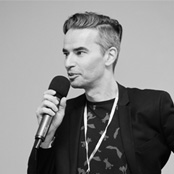 Brano Frk
Designer
Brano Frk (1974) is a Slovak lecturer, knowledge worker, education entrepreneur and learning designer. An area of his professional interest is adult learning, innovation in education, designing learning experiences, knowledge work, edtech, online learning and "edu-punk". In 2016, he founded the company Õppus, which in various ways deals with innovation and learning design.