How fantasy roleplay made a man out of me
Uroš Krčadinac will remind us how magical and educational the world of fantasy roleplaying is, and tell us about all the unexpected ways in which gaming helped him in his life and work.

Lecturer



Location

About the lecture
Nova Iskra presents the second lecture within our FTW! Gaming Hub program. On Thursday, January 18th at 6 PM, Uroš Krčadinac will remind us how magical and educative the world of fantasy roleplaying is, through his lecture entitled How fantasy role-play made a man out of me. Uroš will also hold a 3-day workshop entitled Animator Game Jam: a makeshift video game.
In his lecture, Uroš will share all the tangible and unexpected ways in which FRP helped his life and work. In his own words: We explored a lot of things in high school, but most of all we were into Fantasy Roleplay, such as Dungeons and Dragons. A lot more marginalized than today, FRP was then only played by the biggest nerds and geeks. We played FRP without a computer, "pen & paper" style. Inventing our own stories, characters, worlds, maps, languages and rules. It was a captivating mixture of math, design, literature and the "most interactive interactivity''. Later came universities, research work, serious jobs, earning money and careers. We stopped playing FRP. However, FRP did not remain only a high school nostalgia.
Whatever I have done, dungeon master's experience came flashing back and helped me out. Whenever I would write a piece of software or conduct a research, I would think about how we would change the D&D rules and model the probability. Whenever I would make animations or infographics, I would go back to how we used to draw and create our fantasy heroes.
Everything I've made in my life – from code, writings, drawings, animations, books, websites or computer programs to creative workshops and faculty syllabuses – I have made it better because of my formative FRP experience.
This December, creative hub Nova Iskra is launching a special program cycle dedicated to the gaming industry, entitled FTW! Gaming Hub. Every month, interesting and inspiring lectures will be presented to a wide audience and young professionals, as well as those interested in entering professional gaming. The topics will include various aspects of this fast-growing industry, which has been experiencing great expansion in our region for the past several years.
The lecture is realized with the support of the Development Agency of Serbia (RAS).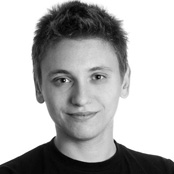 Uros Krčadinac
Multimedia artist
Uros Krčadinac was born in 1984 in Pančevo. In his work, he seeks to link his experiences from the fields of computer science, visual arts, literature, animation and interactive design. As a lecturer at the Department of Digital Arts at the Faculty of Media and Communications in Belgrade, he is responsible for the courses Programming for Artists and Designers and Interactive Design. At the moment he is finishing his PhD studies at the University of Belgrade (FON - Laboratory for Applied Artificial Intelligence), where he graduated as the best student of his generation. He is the co-author, co-publisher, designer and illustrator of the book Bantustan, an infographic travelogue-novel about a three-month trip through Africa. He also works as an associate of the Design Seminar at Reserach Center Petnica. Uroš's work has been recognized by international art festivals and scientific conferences such as American International Digital Media and Arts Association, as well as scientific journals such as IEEE Transactions on Affective Computing and IEEE Transaction on Human-Machine Systems.