GAME DESIGN: FROM CASUAL TO HARDCORE GAMES
The 5th lecture within the FTW! Gaming Hub: Game Design: from casual to hardcore games – Which impulses motivate the players' interactions?

Lecturer



Location

About the lecture
After last month's visit of Zero Gravity Games studio within Nova Iskra's FTW! Gaming Hub program, this month we will welcome Uroš Banjević, Chief Creative Officer of the MadHead Games studio, who will share his extensive experience in the domain of development and launching an ambitious gaming project.
MadHead Games is a Novi Sad – Belgrade studio for video games development, founded in July 2011, and already has a number of awards. The company was founded by programmers and friends with shared passion for game development, with a joint vision of delivering intense and fun products.
Their games, including Nevertales: The Beauty Within and Cadenza: Music, Betrayal and Death, were skillfully tailored, having impressive details and immersive atmosphere. But most importantly, they are a lot of fun. Although they are famous for their work on HOPA (hidden object puzzle adventure) games, the studio has recently been more focused on mid/hard-core projects and independent game production.
Last December, creative hub Nova Iskra launched a special program cycle dedicated to the gaming industry, entitled FTW! Gaming Hub. Every month, interesting and inspiring lectures will be presented to a wide audience and young professionals, as well as those interested in entering professional gaming. The topics will include various aspects of this fast-growing industry, which has been experiencing great expansion in our region for the past several years.
MadHead Games studio is currently undergoing the biggest change ever – the transition from casual to mid/hard-core aesthetics, and Uroš will share his first-hand experience to explain how to use the knowledge obtained in casual games domain, and apply it to the development of hard-core games.
Thanks to the new projects the studio is currently working on, Uroš will be able to make a comparison, and walk you through the basic postulates of game design, applicable on various genres, discuss their similarities, and explain how they influence primal human impulses in all gaming interactions.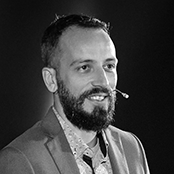 Uroš Banješević
CCO Mad Head Games
Being one of the pioneers of game development in the region and a Chief Creative Officer of the MadHead Games studio, Uroš will utilize his ten years of experience in the domain of 2D and 3D art, animation, and game design to share a part of his knowledge with the participants. In addition to being one of the founders of the MadHead Games studio and one of the pioneers of game development in Serbia, Uroš is also a recipient of a number of global awards in the domain of digital graphics. Being in charge of MHG studio teams in more than 30 projects, he learned a lot about defeat, persistence, and success. Today, Uroš is rightfully changing his status of junior developer to veteran of the industry.