Gigodesign & Design Management
As part of the Design Management course, Miha Klinar will hold a lecture at Nova Iskra.

Lecturer



Location

About the lecture
Through the lecture Gigodesign & Design Management, Miha Klinar will explain some of the key aspects of design management through the work of his award-winning studio Gigodesign. The potential of design as a source of innovation and necessary additional value that design adds to all aspects of the business still needs to be recognized in our region, and unfortunately there is still no sufficient synergy between the design and business communities.
Gigodesign (www.gigodesign.com) is a multidisciplinary team of designers, programmers and consultants who utilize diverse skills and expertise while working with companies. With over 300 realized projects – from branding and packaging, to design of innovative sailing boats, furniture and cooperations with companies such as Elan, Adria or Slatnar – Gigo is among the most innovative design studios in the region, and beyond. As advocates of "user-centered" design and the "agile" approach on project development, they strive to design based on user needs, perform early testings and examine opportunities through numerous iterations. Gigodesign cooperates with a wide range of companies, from motivated startups to large corporations.
The course Design Management presented by Nova Iskra will deal with the place of design management within business systems, process of development of "traditional" products, but also challenges and new professions that bring the digital environment and cooperation of creatives and managers.
The first lecture within the course will be open to the public, while Jovana Tokić and representatives of TEAMS Design will hold seminars closed for the general public.
Realization of Design Management course was supported by the Development Agency of Serbia.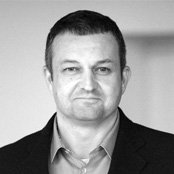 Miha Klinar
Designer
Miha Klinar, co-founder of the studio, founded Competence Center for Design Management () in 2012 , which successfully advocates design management approaches in strategic (re)positioning of companies, as well as the synergy of the business and design communities.  They have achieved impressive business results through the work of 18 Slovenian companies, and the project was awarded first prize at the Design Value Awards established by the Design Management Institute from Boston, the world's oldest institutions in the field.