Group Exhibition within Connect for Creativity project
From November 15th to November 29th the artworks created during the 6-week art/tech residential stays organized by Nova Iskra will be presented at the Science and Technology Museum. Theo Prodromidis (Greece), Oguz Emre Bal (Turkey), Ioana Man (UK) and Sanja Anđelković (Serbia) will present their artworks, that will become part of the permanent exhibition of the Museum. The opening date is Friday, November 15th at 7 pm. 



Location

About the presentation
During October and November, 3 artists from each country – UK, Greece, Turkey, and Serbia spent six weeks in Athens, Istanbul or Belgrade as participants of the residential program stays within the Connect for Creativity project, which will result in a group exhibition in London in 2020.
Selected participants are from different backgrounds such as architecture, visual arts, performative arts, design, literature, music, sound and video, film and new media, while the Belgrade's residency hosted Theo Prodromidis (Greece), Oguz Emre Bal (Turkey), Ioana Man (UK) and Sanja Anđelković (Serbia). 
Participating authors developed their artworks based on the curator's concept, through their own perspective and practice. Final artworks will be presented in smaller exhibitions in each city, and in Belgrade they will be exhibited at the Science and Technology Museum from November 15th to November 29th. The four artworks are going to be a part of the permanent exhibition of the Museum, creating a dynamic dialogue between tech heritage and recent implications of technology, expressed through the prism of each of these artists. 
More than 250 artists applied for the open call for residencies, while the final selection was made by the curatorial team of the Furtherfield organization (UK), that will, at the same time, going to host the final exhibition in March 2020.
Led by British Council, in partnership with creative hubs ATÖLYE and Abdullah Gul University from Turkey, as well as creative hubs bios from Greece and Nova Iskra from Serbia, Connect for Creativity project started in February this year and will be realized by the spring of 2020 through numerous conferences, exhibitions, study stays and research dedicated to the intercultural dialogue in creative industries and hubs. The project is co-funded by the EU and the Republic of Turkey through the intercultural dialogue program, led by Yunus Emre Institute.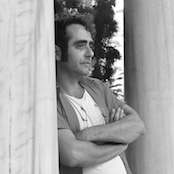 Theo Prodromidis
Umetnik
Theo Prodromidis (Grčka) živi i radi u Atini. Njegova praksa uključuje film, fotografiju i performanse, koji kombinuju istorijske istraživačke, fiktivne i dokumentarne elemente i izazivaju različite asocijacije kritičkim proučavanjem odnosa i savremenih operacija arhitekture, filozofskog diskursa, modernističkih i drugih avangarda, autorskog filma i pozorišnih tehnika, između ostalih. U pitanju je praksa koja razvija "logos" koji pozicionira gore navedena istraživanja i njegove političke konotacije unutar estetičke oblasti.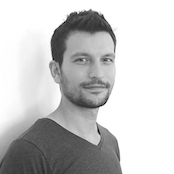 Oguz Emre Bal
Dizajner
Oguz Emre Bal (Turska) je umetnik i dizajner. Diplomirao je enterijer i završio magistrski arhitektonski program na Tehničkom univerzitetu u Istanbulu (ITU). Između 2017. i 2019. kao umetnik je učestvovao na nacionalnim i međunarodnim umetničkim festivalima i izložbama, kao što su ADAF u Grčkoj i Cifest u Italiji i Rusiji. Da bi realizovao svoje radove o svemirskom dimenzionalnom telesnom iskustvu i kognitivnim stvarnostima, koristi softver i hardver, poput proširene stvarnosti (AR), virtuelne stvarnosti (VR) i tehnologije 3D štampanja. Trenutno nastavlja doktorske studije programa arhitektonskog dizajna, i nastavlja dizajn i umetničke projekte u okviru studija un10.design u Istanbulu.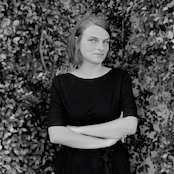 Ioana Man
Multidisciplinarni dizajner
Ioana Man (Rumunija/Velika Britanija) je multidisciplinarni dizajner koji radi u polju između arhitekture, scenografije i kritičke prakse, a diplomirala je na prestižnom Architectural Association u Londonu, gde je i bazirana. Kroz vežbe koje kombinuju pozorišne tehnike sa akademskim istraživanjem i arhitektonskim dizajnom, ona želi da dovede u pitanje arhitekturu, nauku i rituale koji utiču na budućnost kojoj idemo u susret. Trenutno joj je fokus na dugoročnom projektu koji ima za cilj da približi arhitekte mikroskopskoj skali i naučnicima koji je koriste.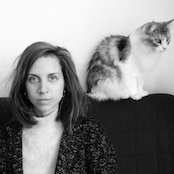 Sanja Anđelković
Filolog i umetnik
Sanja Anđelković (Novi Sad) posvećena je vizuelnom i tekstualnom istraživanju u polju dokumentarne prakse, sa fokusom na razmatranje i propitivanje svoje pozicije u sistemu roda, zatim svoje političke i društvene pozicije, ili traumatične trenutke iz lične biografije/istorije. Istražujući kako se ideja "doma" menja kroz istorijske, geografske, društvene ali i kontekste različitih prirodnih katastrofa.