HELLION – ONE YEAR OF EARLY ACCESS
The fourth lecture within FTW! Gaming Hub: A story about lessons learned in the process of working on the game Hellion.

Lecturer



Location

About the lecture
After last month's visit by Nordeus within Nova Iskra's FTW! Gaming Hub program, this month we will welcome the team from Zero Gravity Games, that has been working on the Hellion project for a couple of years already and will share their extensive experience in the domain of development and launching an ambitious indie gaming project.
Hellion is a multiplayer survival game set in the wastelands of space, in a stellar system thousands of light years away from the Earth. Being a combination of a space simulation and the increasingly popular survival genre, the game offers the experience of surviving in harsh conditions of deep space: vacuum, extreme temperatures, radiation, as well as the possibility of cooperation with other players. As a space simulation, Hellion allows the players to steer a spaceship, explore abandoned stations, and collect items, as well as to leave the safety of the ship to explore the surroundings.
The game has scored well within its Early Access program, and during the lecture, Miroslav Mićević from Zero Gravity studio will speak about the challenges of such a demanding project, including preparation, launching at the market, and maintaining and growing of the user community. It will be a story about lessons learned in the process of working on the game Hellion. The lecture will feature different perspectives on evolution of both the game and the Zero Gravity studio: from game design, over team organization and business decisions, to community management.
The world of Hellion is a simulation of a distant stellar system in which the rules of Newtonian physics apply, and the goal for the players is to obtain the oxygen needed for survival in endless, terrifying vacuum.
Zero Gravity is a startup company founded in Belgrade in 2015. It was started by 5 founders, all of them fans of space and survival genres, who actually met each other thanks to gaming. In early 2017, they launched their first game Hellion on Steam, in Early Access program. They are currently working on its development, creating an immersive futuristic world.
This December, creative hub Nova Iskra launched a special program cycle dedicated to the gaming industry, entitled FTW! Gaming Hub. Every month, interesting and inspiring lectures will be presented to a wide audience and young professionals, as well as those interested in entering professional gaming. The topics will include various aspects of this fast-growing industry, which has been experiencing great expansion in our region for the past several years.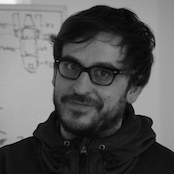 Miroslav Mićević
PR
Miroslav Mićević works as a business developer in Zero Gravity studio. He employs his imagination and creativity to work on PR, marketing, team communication, and coming up with innovative solutions in the complex process of development and launching the game on the global market.