Improvized performance
A second intensive workshop within the third cycle of the NELT Educational Program was led by Paul Murray – a British actor, director, and pedagogue.

Lecturer



Location

About the workshop
One of the key elements in the work of an actor, a playwright, and a director in the theatre is improvisation. It is a methodology that allows for exploration and development of narratives, characters, and drama. Paul Murray developed a unique method of work with the participants, where emphasis is put not so much on the spoken word, but more on physical characteristics and non-verbal communication skills of the performers.
The concept of this workshop is built on practical exercises and the participants are not required to have any previous experience in the theatre.
This workshop is an introduction to core elements of improvisation in performance, and lays out tools and methods such as body improvisation and verbal and nonverbal exercises.
The NELT Company organizes the third cycle of the NELT Educational Program aimed to students, in a collaboration with Nova Iskra and Gallery 12 Hub. Within the third cycle of NEP, 25 selected students will have an opportunity to develop their practical skills from the field of creativity and entrepreneurship, but also to spread their views about critical thinking, teamwork, project development. The trainees will participate in the unique experience of collaboration and knowledge, this year under the slogan THINK FUTURE!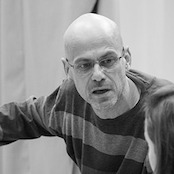 Paul Murray
Theater producer
Paul graduated with a degree in Performing Arts (Theatre and Dance) and has been working as a performance artist (in theatre, film and television) professionally since 1989. Street performance, Improvisation, clowning and theatre performances outside of theatres have been the mainstay of Paul's work as a performer, director and workshop/project leader. His major interests include spontaneity in performance, the liminal space between performance and performing and theatre performances outside of purpose-built theatres. With an MA in Theatre and a PhD in Philosophy of Art (performance), Paul is a visiting professor at University of Arts Belgrade, University of Winchester UK and Central School of Speech and Drama, UK and has published in a number of journals and books on the subjects of Theatre, Drama and Applied Performance.  He has appeared in numerous films and TV series and has recently performed for the first time in Serbian!