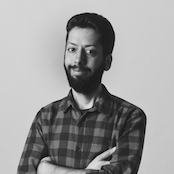 Javier 'Simón' Cuello
Designer
Designer from Argentina, Javier lived 6 years in Barcelona. There he has worked for projects for Zara, Telefonica, Yahoo and FC Barcelona. These last 4 years, he has been travelling around the world embracing a nomadic lifestyle.
Since 2014, Javier is leading 'Nomadic Designer', doing workshops about mobile UX design. This project has taken him to more than 15 countries. He has also taken part of Colombia 3.0, UX Spain, UX Sofia and Campus Party (Ecuador and Brazil).
Javier is co-author of 'Designing Mobile Apps', a book self-published in 2013. Besides that, he's been writing for Smashing Magazine.