22 Mar 2023
MADE IN DIALOGUES – Crafting the Future Conference
Friday, 31 March 2023, 9.00 -17.00
Japanisches Palais (Japanese Palace), Palaisplatz 11, Dresden/Germany & Livestream
The conference organised by State Art Collections Dresden, Museum of Decorative Arts (SKD) is the official kick-off event of the Europe-wide MADE IN Platform for Contemporary Crafts & Design. The participating partners will along with international experts from the fields of crafts, design and research discuss the future of crafts as an instrument for social and ecological change as well as manners of passing the knowledge of craftsmanship and heritage to future generations. How do we want to live in the future? How can social community be shaped with the help of craftsmanship? How can craftsmanship, design, technology and research work together constructively to achieve this? Project pitches, a panel discussion and round tables will offer the opportunity to find out about the current situation and explore more with the experts present.
More about the project find here.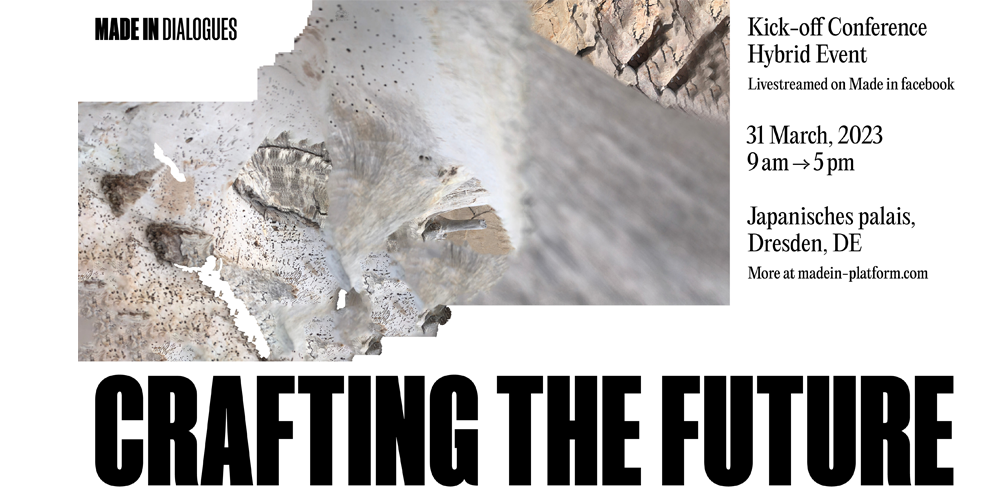 Made in Platform is co-funded by the Creative Europe Programme of the European Union.