Mental Chronography: Clocking the inner workings of the human brain
First in a row, public lecture, within fourth cycle of Nelt educational program, will present new discoveries in the field of neuroscience.

Lecturer


Program Language
Engleski

Location

About the lecture
A clock simply measures the passage of time… but it turns out that it can reveal much about ourselves.  There is a rich history in neuroscience of tracking reaction times as a key external measure of the inner workings of the human brain… and it is affected by many factors.
Greg Gage, in his lecture, will use live demonstrations to show how DIY tools in the makerspace are being used to answer deep questions about neuron velocity, texting while driving, decision making, and much more!
NELT company organizes the fourth cycle of the NELT educational program for students, in cooperation with the Nova Iskra and G12HUB. Within the fourth cycle of NEP, 27 selected students will have the opportunity to develop practical skills in the field of creativity and entrepreneurship, as well as to expand their aspects regarding critical thinking, team work and project development, the participants will go through a unique experience of cooperation and knowledge, which this year takes place under the name "THE OTHER SIDE OF KNOWLEDGE"!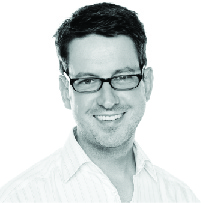 Greg Gage
Neuroscientist
Greg Gage is a neuroscientist and participates in the TED Fellows program, which gathers global innovators and leaders from different fields. He is an award winning American PhD researcher, and his work has been focused on spreading the knowledge about the human brain, and most importantly on development of affordable technology for education of primary school and high school students. Greg is one of the prominent speakers at the TED conferences and he has 9 TED talks online, each supporting his mission of spreading the knowledge about neuroscience.  He founded the Backyard Brains company, which works on the development of open-source tools for helping non-professionals and high school students acquire knowledge about this important subject.