6 Dec 2017
Nova Iskra marks its 5 years of existence!
This week marks five years since Nova Iskra, the first creative hub and coworking space in the Balkan region, opened its doors in Gavrila Principa street 43. On the occasion of this significant anniversary, Nova Iskra presents its brand new website, as well as a full redesign and rebranding.
Nova Iskra is a pioneering creative hub in the Balkans, created with the idea to incite tangible connections between creative industries, technology and the people. Nova Iskra creates spaces, initiates collaborations and designs education programs for innovators, entrepreneurs, researchers, activists, students, professionals, organizations and companies who are interested in taking an active role in shaping the way we will live, learn and work in the future.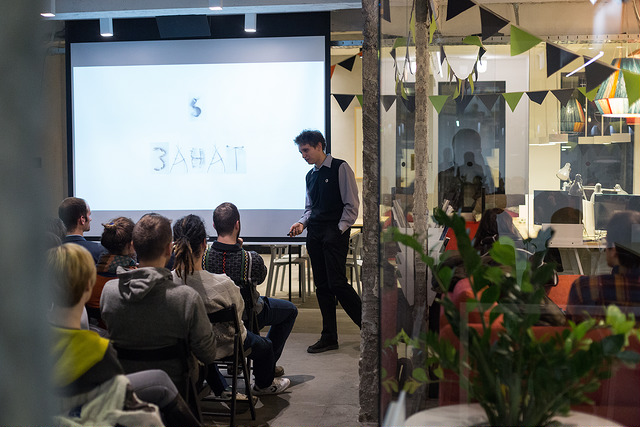 Our grassroots organization is dedicated to the empowerment of individuals and teams through a process of informal education – the one that broadens our general knowledge and experience, improves our skills and contributes to personal and professional development. Since December 6th 2012, over three hundred free educational programs and professional consultations were realized, while a number of projects from the fields of social entrepreneurship and creative business were initiated. Nova Iskra creates functional connections between knowledge and the market, and affirms numerous methods, designers, innovators, activists, researchers, entrepreneurs and experts – the ones who are willing to share their knowledge, practice and challenges with the community.
At the same time, Nova Iskra was recognized as one of the pioneering initiatives in supporting the creative industries and the hubs ecosystem in Europe at large, and through the European Creative Hubs Network project (http://www.creativehubs.eu), Nova Iskra established new significant partnerships with similar organizations from Great Britain, Sweden, Portugal, Spain, Slovenia, Germany, Belgium, Slovakia, Italy and even China.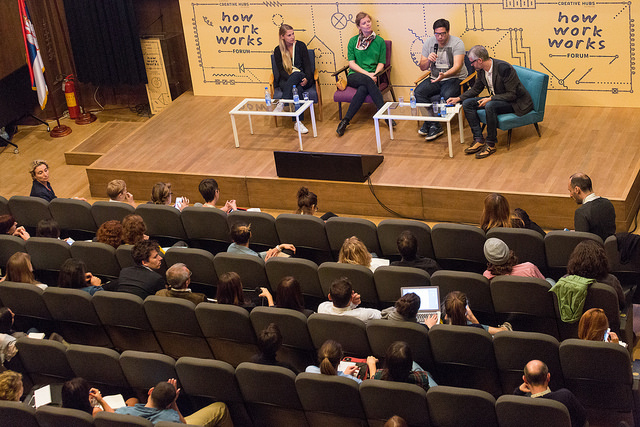 Among the most significant activities and results of the first five years of Nova Iskra are the educational programs (more than 300 free programs); development of Folkk brand (http://www.folkk.co); international residential program Designer In Residence; coordination of the Nelt Education Program for students; a number of courses focused on the development of practical skills for young professionals; Studies of Commons, from which the new zajednicko.org network is developing in 2018; Aks Me Anything program of free professional consultations; Green Lab that includes the first urban garden in downtown Belgrade and an open-air classroom; and finally the publishing endeavor ZENT magazine (http://www.zentmagazine.com) which brings contemporary social and artistic theory closer to a wider audience.
Many lectures and workshops were held at Nova Iskra by prominent experts and esteemed creators from Serbia, region and abroad, including: Škart, Nicholas Felton, Borut Vild, Gregory Gage, Miloš Tomić, Lazar Džamić, Igor Bogićević, Tina Frank, Ivan Kucina, Niklas Roy, Uroš Petrevski, Damjan Geber, Samir Alj Failt, Jovan Čekić, Slavimir Stojanović, Jenny Nordberg, Marcel Mars, Bratislav Milenković, Katarina Pejović, Relja Dereta, Karkatag, Tomislav Tomašević, Zoran Jedrejčić and more than 50 other individuals, as well as design studios đukićpavlović, Metaklinika, Chevavlert, OAZA, Antipod, De:work, AUTORI, Polyhedra, TEAMS Design and others.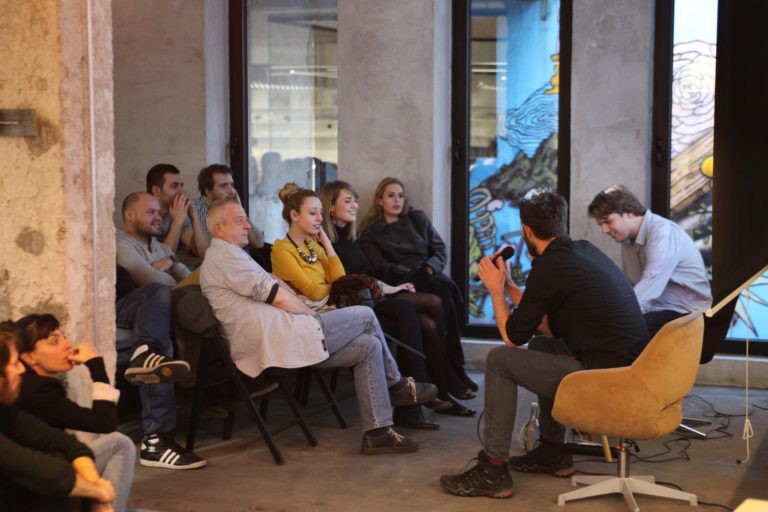 Among the organizations represented in Belgrade through Nova Iskra's activities are the globally established centers for creativity and design, such as Fabrica (Italy), Royal College of Arts (London), PolyU School of Design (Hong Kong), Waag Society (Amsterdam), ArtScience Interfaculty (The Hague), School of Visual Arts (New York), Fachhochschule (Salzburg), Hyperisland, IASPIS (Stockholm), Croatian Design Association (Zagreb), Poligon (Ljubljana) or Design seminar Petnica, as well as companies such as Gigo Design, Nordeus, Velux, Lunatronik, Bosch and many others.
On the occasion of its fifth birthday, Nova Iskra proudly presents its completely new website – WWW.NOVAISKRA.COM, including the redesign of its visual identity. Both were designed by Olga Jorgačević (https://www.behance.net/trolga), who has over the last four years visually shaped most of the communication materials of Nova Iskra, and is our Art Director and the designer behind the two other Nova Iskra websites – NI Workspace and NI Studio.
Nova Iskra Studio (http://www.novaiskrastudio.com) has realized a number of challenging projects for clients such as Extraform, NIS, Telenor Bank, Simpo, Delhaize, Coca-Cola HBC Serbiaa, Fund for an Open Society, Hartefakt Fund, Creative Europe Desk Serbia, Ministry of culture of Serbia, Mokrin House, Social Inclusion and Poverty Reduction Unit and many others and has, through its specific methodology, brought these clients added value, increased visibility and increased market ompetitiveness.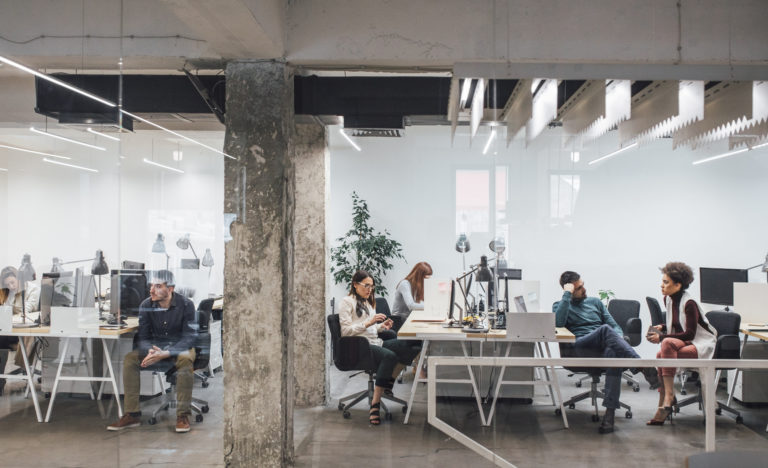 Nova Iskra Workspace (http://www.novaiskraworkspace.com) is the leading coworking provider in Serbia which currently runs more than 700 m2 of open space with a capacity of 56 working units, and has so far been used by more than 200 members. Within its Green Lab, located on the terrace of Nova Iskra, 350 plants have been planted including more than 60 different herbal species. Nova Iskra's interior, designed by the Petokraka, was showcased in numerous international architectural press and professional literature, while in 2015 it was pronounced as the best coworking space in Serbia.
The opening of the second location of Nova Iskra Workspace is expected in 2018!