Office of the future
How to respond to the needs of companies and users of space in the age of digital and technological revolution?

Lecturer



Location

About the presentation
Does a company choose employees nowadays or employees choose their workplace? Can an office space become part of the company's brand?
The lecture is intended for future employers, architects and designers and all those who want to learn how space affects satisfaction in the workplace.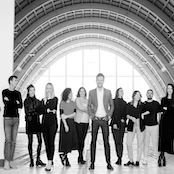 Brigada
Design studio
BRIGADA is a multidisciplinary studio that specializes in its work on various aspects of communication through interior design. They utilize their extensive knowledge of branding and consumer psychology through a multidisciplinary approach, which is unique on the market. Brigada's quality of work of the strategic and creative team was confirmed by numerous international awards. In addition to awards in the field of architecture and design, Brigada's unique communication approach within space are prizes from traditional marketing festivals like Effie, Golden Drum or idea X. Winning the national Effie Awards in partnership with Bruketa & Žinić & Gray proved that Interior design is much more than a nice landscaped area, and that the integrated offline/online access can very clearly and effectively transmit the right message to visitors or customers.
BRIGADA is responsible for creating a unique experience in a variety of different venues, from shops, offices and restaurants to events, exhibitions and private homes, until today they created and produced over 200 different spaces.