Pop-up exhibition "Rezervni delovi" by Charlotte de Sédouy
Charlotte de Sédouy, one of the guests of the this year's Designer in Residence program, will present her "one night stand" exhibition titled "Rezervni delovi" at Ostavinska Gallery.

Lecturer



Location

About the presentation
Within the Designer in Residence program, this year's guests of Nova Iskra are the Swedish weaving artist Emelie Röndahl, as well as another French author, brought to Belgrade in collaboration with AMI Centre from Marseilles. At the same time, Karkatag Collective from Serbia is taking part in the program by spending one month as guest of AMI in Marseilles.
Charlotte has a soft spot for outdated technologies – thermal fax machines, slide projection, stereoscopic images, MIDI music format – and likes to include them in her different projects. Lately, she presented her work in the US and France (solo show at 186 Carpenter, in Providence, RI), participated in the graphic design and independent publishing themed events Quoi Matiere Signe (IPN artist run space, Toulouse) and Indiemag Days (Hamburg, Germany) and showed her animations at film festivals (Kunstfilmtage, Dusseldorf). Last but not least, she collaborated with the American independent newspaper Mother's News for 4 years, appearing in the comics section. In parallel she explored the pedagogic aspect of her practice by leading many workshops with children and teenagers.
The exhibition Rezervni delovi will present a sample of her recent works, featuring thermal prints and publications, as well as the web project and collages she has been working on while in Belgrade.
The opening and the entire presentation of the "one night stand" exhibition Rezervni delovi will take place on Friday, November 23rd from 6PM at Ostavinska gallery (Kraljevića Marka 8). The exhibition and the residential stay of Charlotte de Sédouy are realized with the support from The French Institute in Belgrade and EUNIC.
Ostavinska gallery is a gallery space of the  cultural center Magacin in Belgrade. Availability of the space for exhibitions and artistic experiment to the wider number of creators enables networking and interpersonal dialogue for young and affirmative actors, as well as collaboration of artists from different spheres of contemporary artistic scene. Gallery supports realization of numerous events and activities, from exhibitions, film projections, performances, discussions, poetic nights to experimental formats of art.
Beside her Belgrade exhibition, Charlotte de Sédouy will also present another pop-up solo show in Novi Sad at the KC Lab, on Wednesday November 28th, while you can also catch her the following day at an EUNIC event at the Krokodil Center in Belgrade.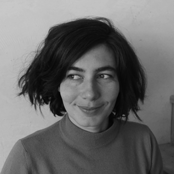 Charlotte de Sédouy
Visual artist and illustrator
Charlotte de Sédouy is a French artist and illustrator based in Marseille. She earned her Masters degree in Graphic Design at the DNSEP faculty in Toulouse. She operates in the field of print as well as in the digital world, but also likes to stage her work as an installation once in a while. She uses her own paintings as the prime material for her collages and animations.