My public electronic library
Tomislav Medak will hold a one-day workshop as part of the Studies of Commons program, in which he will present the process of creating and managing a library of electronic books.

Lecturer



Location

Entrance
free, by aplication
About the workshop
This short course will help you to understand where to can find e-books, magazines and scientific articles, how to maintain an electronic library, how to divide e-books, how to become a good virtual librarian, how to use e-book reader, how to extract notes from it, how to we make electronic notes and electronic library into a structured scientific library or how to maximize e-books for your research.
The workshop My public electronic library: From Librarian – amateur to researcher – discoverer, from bound books to digital notes (records) is free and open to all interested parties, the capacity of participants is limited to 15 and therefore it is necessary to register via the link – http://bit.ly/2js5C58, by Friday, January 20th at noon. All applicants will be informed if they have ensured their participation in the workshop, on a first come first served basis.
Participants need to bring their computer and optionally an electronic book reader, tablet or smartphone. We recommend that you pre-install Calibre (http://calibre-ebook.com/) and Zotero (https://www.zotero.Org).
Through a series of lectures and workshops, Studies of Commons investigate topics such as  alternatives of capitalism, heritage and the possibility of self-management, including implications of technological, economic and urban development that are guided by the idea of ​​general or common good, i.e. commons.
Studies of Commons are organized by Nova Iskra, Ministry of Space and Regional Science Research Centre of the Institute for Philosophy and Social Theory, and will be realized with the support of Heinrich Boell Foundation.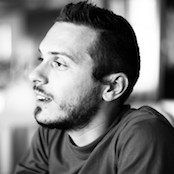 Tomislav Medak
Philosopher
Tomislav Medak leads the theoretical program and publishing activities of the Multimedia Institute / MAMA in Zagreb. He is a defender of free software and free culture, and in recent years through the work on the project Memory of the World / Public Library deals with the issues regarding knowledge accessibility, the limited role of public libraries in the digital environment and "libraries in the shadows".He is also author and performer with the Zagreb theater collective BADco.