Reading the external and internal space-time
Prva radionica u okviru Nelt edukativnog programa!

Lecturer



Location

About the workshop
In the three days of sharing time and space, participants in the third cycle of the Nelt educational program had the opportunity to raise awareness and perception through a series of exercises and games that aim to ask some of the following questions: Is it true that we are experiencing space only three-dimensional and time alone linear? And is there a difference between the external, "objective", space and time, and our inner, "subjective"?
The workshop was conceived as an interdisciplinary game in many spaces, examining new ways of determining our own coordinates in relation to the reality that surrounds us.
The aim of the workshop was to encourage participants to think, open up and talk with other program participants, in order to get to know each other better, to connect and cooperate better throughout the program.
Participants in the NELT educational program in the next 12 months will have the opportunity to develop skills in the field of creativity and entrepreneurship, as well as to expand their knowledge in terms of critical thinking, team work and project development. The third cycle of educational program organized by Nelt in cooperation with Nova Iskra and the Gallery 12 HUB will last from October 2017 to September 2018.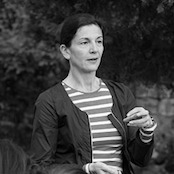 Katarina Pejović
Playwright
Katarina Pejović graduated in playwriting and film and TV script at the Faculty of Drama Arts in Belgrade. Beside theater writing, she is involved in pedagogy, intermedia arts, cultural activism and translating. She established collaborations with many institutional and independent organizations, directors, stage designers, intermedia artists and interdisciplinary artists in Serbia, Slovenia, Croatia, Germany, Italy, Malta, Cyprus, Holland, UK, USA and Austria. Her artistic works  have been presented at festivals in more than 20 countries.