Signalization and behavior of plants
Prominent American neuroscientist Greg Gage visits Nova Iskra again, this time to speak about the neurology of plants.

Lecturer



Location

About the lecture
In his latest lecture, Greg Gage focuses on the neurology of the plants, the topic he is also about to address in his interactive lecture Signalization and Behavior of the Plants. Plants merge with the background of human existence, being quite life forms, a whole phylogenetic kingdom away from the human race. However, according to recent research, plants can communicate with each other, with some striking similarities to our nervous system. The lecture will discuss basic neurological principles and simple experiments that can unveil incredible secrets beneath the leaves and branches of our green cohabitants.
This lecture also represents the beginning of the new program season within Nova Iskra's Green Laboratory, a special program and ambient devoted to sustainable development.
In contrast with huge interest in the secrets of the human brain, Gage points out the problem of scarcity of practical knowledge transferred to the young, as well as the lack of didactical resources for schools. 25% of the world population has neurological complications that still cannot be cured, which is why Backyard Brains works on electro-physiological experiments that represent the models of the human brain and its functioning. Their equipment is used in schools in more than 60 countries, across all 7 continents. The goal of this project is to help increase the number of innovative and devoted neuroscientists in the future.
Greg will give the same lecture at the next Ted conference.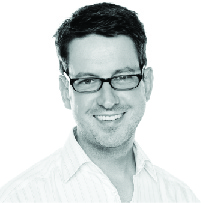 Greg Gage
Neuroscientist
Greg Gage is a neuroscientist and participates in the TED Fellows program, which gathers global innovators and leaders from different fields. He is an award winning American PhD researcher, and his work has been focused on spreading the knowledge about the human brain, and most importantly on development of affordable technology for education of primary school and high school students. Greg is one of the prominent speakers at the TED conferences and he has 9 TED talks online, each supporting his mission of spreading the knowledge about neuroscience.  He founded the Backyard Brains company, which works on the development of open-source tools for helping non-professionals and high school students acquire knowledge about this important subject.