Small scale, collaborative design in post-industrial Sweden
Nova Iskra presents this years first Designer in residence guest, the prominent Swedish designer whose work is focused on furniture and industrial design.

Lecturer



Location

About the lecture
Nova Iskra has the pleasure to announce the first visit within this year's residential exchange program Designer in Residence, which is being realized in cooperation with organizations from Sweden, France, Germany and Serbia.
His work will be presented at Nova Iskra through the lecture Small scale, collaborative design in post-industrial Sweden. He will also talk about Örnsbergsauktionen, a self-organized project that opens up the process between idea and the finished product, and reduces the distance between designer and client. This unique design auction is done in collaboration with Simon Klenell and Fredrik Paulsen. All of Kristoffer's projects are a result of studio production without close connection to producers. They are the projects and voices that are realized in smaller cycles, in terms of time, economy and volume.
Kristoffer Sundin will stay and work in Belgrade throughout October and November, while he will hold a lecture and present his work at Nova Iskra on Thursday, October 12th at 6 PM.
This year's residency exchange is supported by IASPIS, French Institute and Goethe Institut in Belgrade, as well as the Ministry of Culture and Media of the Republic of Serbia, while the partners AMI Center (Marseilles) and betahausHamburg.
Interdisciplinary work, careful planning of each of the residential stays according to the needs of the participants and specifics of the organization that will host them are the main characteristics of this program. The program is of an open-end character, meaning that the participants are not required to work on and deliver specific projects, but they are expected to take part in the programs of their host organizations and share their experiences in their respective local communities. Since 2014, more than 30 authors have taken part in these residency exchanges.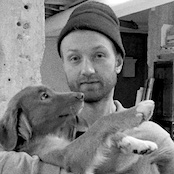 Kristoffer Sundin
Artist
Kristoffer Sundin graduated from Konstfack in 2011, and has since been running his own studio in Stockholm with a focus on interior design commissions, studio-produced design and public art projects. Kristoffer has created many projects in collaboration with numerous artists and designers, including clients such as Publit Highlights, Jockum Nordström, Gallery Magnus Karlsson, Bio Rio and others. Together with the artists 1:2:3 and Simon Klenell, Kristoffer founded A-B-C production platform and webshop. The idea behind the project is to create a context for bi-products from interior commissions, as well as for self-initiated and self-produced design objects. Most of the work is made by the designers themselves and sold through the web shop.