SpellSouls – Rebooting an Art Style
Nova Iskra presents the third lecture within our FTW! Gaming Hub program, this month in collaboration with Nordeus.

Lecturer



Location

About the lecture
On Thursday, February 22nd at 6 PM, Nikola Damjanov, Senior Generalist 3D Artist from Nordeus will share his experience of the three years of pre-production of Spellsouls: Duel Of Legends.
This lecture will be mostly about evolution and progression. During three years of pre-production, the Spellsouls: Duel Of Legends game team has scaled from 12 to 50+ people, while at the same time game vision has matured from stylized visuals to high quality AAA aspirations. Every piece of the game-dev puzzle was changed at one point, some things even multiple times. Nikola and Nordeus would like to share their journey and show you how they used to do things, and how they do them now.
Nikola will talk about the challenges they faced during that time of transition, and how they adopted standard procedures, or created their own custom solutions in order to optimize their pipeline. He will also be sharing the precious Nordeus learning process, and will show a historical retrospective of the game with, a focus on art production and scalability. Hopefully, after this lecture the audience will have a better insight into how big or small art production can be in a game studio.
Nordeus is the award-winning company that created Top Eleven, the first cross-platform game in the world and the most successful football-manager game for mobile devices of all times.
With headquarters in Belgrade and employees from all around the world, Nordeus started with three founders in 2010 and has grown into a strong leader in the mobile gaming industry with over 160 employees. All employees, from 22 different countries, are connected by the same passion – to create through teamwork and work on the games that will be both fun to play and create.
Last December, Nova Iskra is launched a special program cycle dedicated to the gaming industry – FTW! Gaming Hub. Every month, informative and inspiring lectures will be presented to a wide audience and young professionals, as well as to those interested in entering professional gaming. The topics will include various aspects of this fast-growing industry, which has been experiencing great expansion in our region in the past several years.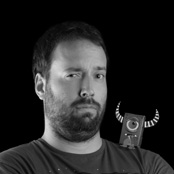 Nikola Damjanov
Senior Generalist 3D Artist
Nikola is a Senior Generalist 3D Artist with more than ten years of versatile experience. He is working at Nordeus, the independent gaming studio best known for Top Eleven, for the past six years. He has been actively improving his artistic skills, exploring new tools and adopting them as early as possible. He has developed through the company and is currently channeling his passion, focus and broad skill-set working as a real-time VFX Artist on Spellsouls: Duel of Legends. Nikola cherishes the bigger picture and looks to help shape it in every way he can, getting involved in hiring, interviewing, mentoring and overall maintenance of the company culture.