The Landslide of Universal Basic Income: Is this the real life, or is this just fantasy
Nova Iskra is announcing a lecture dedicated to the increasingly popular topic of Universal Basic Income, and the possibility of its implementation in Serbia.

Lecturer



Location

About the lecture
Universal Basic Income (UBI) is a type of a (governmental) program in which citizens of a specific country may receive a certain sum of money every month, just because they are citizens. This program still evokes contrary opinions about its existence and possibility of implementation in different countries, especially because there are some speculations about how this program will encourage more people to do nothing, in order to receive their pay. On the other hand, studies of motivation say that rewarding activities with money is a good motivation for mechanical work, but not at all for creative work.
Universal Basic Income has become a mainstream policy topic in the last few years, specially having in mind the implications brought on by automatization, speedy development of AI and global demographics. But there is still a lot of confusion about what it actually is.
UBI opens the door for discussion about the future of the state, and the radical policies that might be necessary if we are going to survive the 21st century.
What is UBI, and what are its specific implications for the Balkans, where we face a range of very specific social and economic challenges? This lecture will try to answer these question and  will discuss the recent research for a UBI experiment for Serbia, which was designed earlier this year.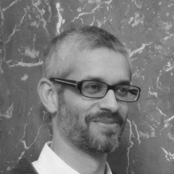 Paul Currion
Arhitekta
Konsultant koji radi u domenima urbanizama, humanizma i kulture. Magistrirao je arhitekturu u Londonu i specijalizovan je za studije životne sredine i energetike. Poreklom je iz velike Britanije, a dugi niz godina živi i radi u Beogradu kao jedan od članova inicijative Ko Gradi Grad. Aktivan je pridruženi član brojnih incijativa među kojima se ističu Beogradska zvučna mapa i Kritična masa. Takođe je pisac čija je fikcija i dokumentarna literatura objavljivana u brojnim stručnim magazinima, a piše redovnu rubriku vesti za humanitarni sajt IRIN. Dugi niz godina je radio u zemljama koje su prolazile kroz različite političe izazove, uključujući Kosovo, Avganistan i Irak, a nedavno je napisao vodič za procenu humanitarnih potreba u urbanim sredinama.