What is the easiest way to sell your design to the clients?
The second IxDA Belgrade meetup at Nova Iskra.

Lecturer



Location

Entrance
Free by application
About the panel
"How much should I charge for this?" – the most common question that has been asked by freelance designers. 
The audience will have an opportunity to hear a personal story about the process of selling and get an insight into a process that doesn't have to be difficult. 
Also, the participants will get concrete suggestions on how to deal with this problem, as well as directions on how to recognize "the client from hell" and move their energy to someone who appreciates more their creativity and potential. 
Program:
19:00 – 20:00 Lecture
20:00 – 20:15 Q&A
20:15 – 20:30 Networking
The number of seats is limited and the applications are available on the link.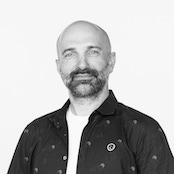 Nikola Vukašinović
UX designer and Creative Director at Namics
UX designer and Creative Director at Namics, where he works on projects for the biggest German and Swiss clients (Siemens, UBS, Raiffeisen). Also, he runs his own design studio and collaborates with start ups from all around the world. He has worked on the web for the last 15 years, mostly as a freelancer. He is a co-lead of the IxDA Belgrade (the biggest global community of "interaction" designers).