Youth Media Hub: Learn how to tell stories
In partnership with the Intera organization from Mostar, Nova Iskra presents an online workshop dedicated to the topic of presentation skills within the Youth Media Hub project, realized as part of the international regional programme "Dialogue for the Future".

Lecturer



Location

Entrance
Free by application
About the workshop
The workshop is led by Relja Dereta, one of our most experienced professionals in the field of public speaking and coaching, with great experience in working with individuals, teams and entire organizations. Through theory and a lot of practice, we will explore crucial aspects of public presentation, regardless if we perform live or online: 
What are the steps in the preparation of the presentation – from where we begin, how much time we devote to each segment, how smart to schedule time for preparation to avoid working on it a night before…?
Strategic development of the presentation concept – how do we analyze the audience, context and the wider picture in which the presentation is happening, how to define the goals and create a space for potential interaction and improvisation
Developing the effective scenario – how to structure our speech to flow and keep the attention, how to use stories, examples and other techniques to communicate the essence
Presentational skills – how to authentically express and make contact with the audience, how to stand, sit, move, gesticulate and overcome the fear of public speaking.
Join the workshop by applying via the following link!
Youth Media Hub is a partnership project between Nova Iskra Creative Hub from Belgrade and INTERA Technology Park from Mostar, aimed at young people ages 16 to 23.
The project is realized within the joint regional programme Dialogue for the Future (DFF), led by UNDP, UNICEF and UNESCO, and funded by UN PBF.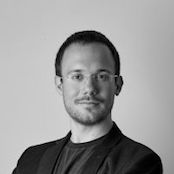 Relja Dereta
Communication Skills Trainer
Relja Dereta has over 15 years of experience in everyday teaching and public presentations. He is a co-founder and director of the Epic Assistants company, where as consultant and communication skills trainer advises world experts, managers, scientists, lecturers, creatives and many others in formulating their ideas. He collaborated with leading companies in the country, region and beyond, including Microsoft, Amazon, Telenor, VIP mobile, Erste Bank, OTP Bank, Nordeus etc. As tango instructor and project coordinator at the Tango Natural Institute, he helped build the Institute into the biggest organization of its kind in Europe. He is also a founder of the School of Activism, where hundreds of young people learnt how to come up and implement their ideas. He is a member of the board of directors of the NGO Citizens Initiatives and the advisory board of the NGO Creative Mentorship.