Youth Media Hub: Overcome the team culture!
In partnership with the Intera organization from Mostar, Nova Iskra presents an online workshop dedicated to team culture within the Youth Media Hub project, realized as part of the international regional programme "Dialogue for the Future".

Lecturer



Location

Entrance
Free by application
About the workshop
The workshop is led by Nana Radenković, co-founder of Nova Iskra and creator of special educational programs aimed at helping young people overcome skills important for both personal and professional growth.

Many of us have been in the situations in which working in a team becomes hard, inefficient and frustrating. The workshop will reveal possible reasons for that, while presenting practical solutions and suggestions on how to create and keep a good team dynamic and culture. We will show you some good practices on how teams can target problems and challenges faster, easier and more efficiently, but also to give better solutions and strategies to improve the work process in cultural collectives, as well as socially engaged initiatives and entrepreneurial ventures. Nana is going to showcase which specific skills we should improve in order to become a productive part of a successful team, that should recognize, articulate and define challenges and potential problems, and also to take over an active role in solving them. 
All those interested in participating in the workshop should apply via the following link.
Youth Media Hub is a partnership project between Nova Iskra Creative Hub from Belgrade and INTERA Technology Park from Mostar, aimed at young people ages 16 to 23.
The project is realized within the joint regional programme Dialogue for the Future (DFF), led by UNDP, UNICEF and UNESCO, and funded by UN PBF.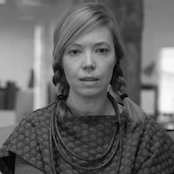 Nana Radenković
Educator and mentor in the domain of Entrpreneurship
One of the co-founders of Nova Iskra, where from the very beginning she is actively engaged in creating special educational programs for the wider community of our hub and the general public.
Nana is devoted to creating special educational programs with the aim to provide young professionals with the skill sets necessary in an increasingly fluid and shifting job market, as well as challenging economic and social circumstances, not only on the local but on the global level.
Nana is designing programs, projects and partnerships which are contributing to empowering individuals and teams through education, one that expands our knowledge and experience, improves skills, and contributes to our overall personal improvement and development.
Nana Radenković holds an MA in Management in Culture, Interculturalism and Mediation in Balkans (University of the Arts Belgrade) and BA in Art History (Philosophical Faculty of Belgrade University). She has great professional experience in public, private and civil society organizations in the fields of art, culture and cultural industries. She is also the founder of the KidsPatch festival for children, and was a guest professor at the Faculty of Media and Communications in Belgrade, as well as one of the mentors in the Creative Mentorship program.