Perks of running a brotherly business: Dechko Tzar
The first visit within the DIY Creative BLKN program, a special program created by Nova Iskra in collaboration with SAE Institute Belgrade.

Lecturer



Location

About the panel
Through presentation of the trending and latest activities of the DechkoTzar brand, as well as development strategies from the Braća Burazeri studio, we will have an opportunity to find out what were the challenges Nikola and Nenad Radojčić came across when it comes to creating a company, brand, market development and collaboration with clients.
Nikola and Nenad will share with us the reasons behind their business decisions, as well as what were the moments that were crucial for developing their professional path.
Through interactive meetups and talks, the audience will find out what are the real challenges that creatives are facing when creating studios, designing brands or developing new markets.
DIY: Creative BLKN is a special, collaborative program of Nova Iskra and SAE Institute Belgrade, created with the idea of promoting regional and local business in creative industries.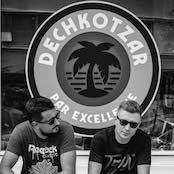 Braća Burazeri
Graphic Designers
Nikola and Nenad Radojčić are graphic designers, but also brothers from Belgrade. They are active on the scene from the late 90s, as graffiti artists and members of the Big Illegal. They are professionally in the field of design since 2001, when the first DechkoTzar t-shirt was made. From 2002 to 2011 they were members of the creative team of B92, and from 2011 they are dedicated to their own studio. As freelancers, they work for many clients and creative agencies (Frikom, Samizdat B92, Fond B92, Film Center Serbia, Yugoslav Film Archive Museum, Mandarina Cake Shop, nightclubs Mladost, Radost, Ludost, Barutana, Prima Cosmetics, Telenor, Coba & Associates, Idea Plus, Ovation, Popular…) and develop DechkoTzar brand at the same time. The first DechkoTzar store was opened in 2015 in Belgrade.